Written by Mikaela Delia for Atlantic Training
I can't help but feel like every "surprise inspection"  for anything, ever, is nerve racking. I remember teachers inspecting our desks and cubbies for cleanliness back in grade school. Mine was always a wreck…old, unidentifiable food, broken crayons, dirty socks, old homework and tests…basically a lot of kid-nastiness. It's not that I was lazy, it's just that I was neglectful. We all are at times, which allows certain things to fall through the cracks or create habits of short-cuts, etc. Anyways, back to OSHA.
But now you have a nagging feeling that an OSHA inspector will be dropping by soon and you want to get back on track and "tighten things up" before you get penalized. (Or in my case, it was having to stay in from recess to clean my damn desk). Let's explore how you can get ready: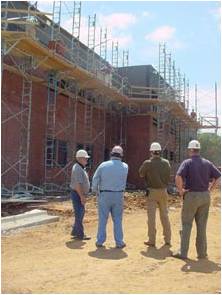 First things first, ask yourself a few questions before taking action, such as:
"How confident am I that we'll pass with flying colors?" If you have even a seed of doubt, it's best to put it to rest by taking measures to absolve it.
"What are the standards that I need to be compliant with?" Need a refresher or a crash course? Learn the standards and regs by clicking here. 
"Are all of my employees up to date with their necessary training?" OSHA inspectors will be looking at your employees training certificates and test scores for the appropriate training relevant to their job (FYI, if you need to do this like ASAP, we can get your employees set up with online training instantly so they can get that done immediately and not have to wait for a DVD. Click here.)
"What do I need to fix/prepare/be vigilant of in order to be absolutely ready for an inspector?" Great question, you're so smart! We're going to answer that for you right now.
Perform a safety audit
The only way to know where you're lacking in compliance is to actively look around your workplace and perform a safety audit. A safety audit is essentially where you become the OSHA inspector and check your workplace for compliance with safety standards and regulations. This will help you pinpoint exactly which areas need improvement so you can take the corrective measures. Feel free to use our free OSHA Safety Checklist . The OSHA Hazard Identifying E-tool is a great resource too, and it's also free. In fact, here are all of OSHA's free online e-tools. 
Know what gets cited the most
According to OSHA, these are the top ten most cited violations in workplace across the country [2]:
Courtesy of OSHA [2]
Here's what the inspection consists of
It's important to know what exactly will take place when an OSHA inspector arrives. Therefore, you can plan your daily operational activities to accommodate it and be extra vigilant about what they're going to be looking for. This OSHA inspection fact sheet will tell you exactly what will go down during an OSHA inspection.
And here's what to do before, during, and after it happens
Before- Have a procedure in place that designates someone to escort the inspector around, and have a meeting space where you can conference with the inspector before and after the inspection [1]. You should also have a back-up plan if your safety person is absent that day [1]. When the inspector arrives, it's your right as an employer to know if they're a real inspector or an imposter and to ask to see their ID. Look at their photo, name and office location- it won't be on a badge [1]. Write it all down, too. If they don't let you see their ID, then they're the ones who are not in compliance.
During- The inspector will tell you in the pre-conference the reason for the inspection. There are a few different reasons why and inspector might be there aside from random selection. OSHA states that it could also be:
Catastrophes and fatalities
Employee complaints
Referrals, which can come from any entity, including another government agency
Programmed inspections, in which worksites are randomly selected, or based on emphasis programs, injury rates or previous citations
Follow-up inspections
Courtesy of OSHA [2]
The length of the inspection depends on the size of the facility. Could take one day, it could take one week [1]. During the inspection, treat the inspector how you would want to be treated. Be welcoming, warm and transparent. You have no reason to feel nervous or guilty if all of your ducks are in a row, and they're just doing their job. Unless of course, the inspector ends up being someone who abuses their power (of which, we all at some point will experience the unpleasantries of someone who abuses their power). "'If the compliance officer becomes confrontational or gets out of line, remain calm and call the inspector's office', advises John Newquist, an Illinois-based consultant and former OSHA assistant regional administrator" [1].
The OSHA inspector will then ask you a few questions about the facility, specifically if there are any unique dangers [1]. After which, they'll conduct a walk-around of your facility which will include note-taking and photographing. Be prepared to provide the inspector with the appropriate PPE if they don't bring their own [1]. The inspector will then ask to interview certain employees, which will take about 10-15 minutes for each employee [1]. You should encourage your employees to be honest and open.
After- The inspector will end the inspection with a conference, either in-person or over the phone. There they will go over their findings and will let you know if they found any hazards that could lead to citations [1]. Fix the hazards. If not to avoid the citation, then to close up a hole in workplace safety that could cause an injury or even death down the line. In that event, a citation fee would be the least of your worries.
Bottom line, as an employer, safety officer, safety manager, etc. it's your job to ensure that your company is in compliance with OSHA's safety regulations at all time, not just when an inspector is present. It's your moral duty to make sure your employees return home safely to their families at the end of the workday, and that that isn't hindered by cutting corners or allowing engagement in safety negligence. I'm simply telling you what to expect from an OSHA visit and how you can be ready, it's your duty, however, to make sure that you're always ready- by being a safety advocate and a workplace safety warrior. Which, I'm sure you already are! 🙂
References
[1] Morrison, Kyle W. "Preparing for an OSHA Inspection." Safety Health Magazine RSS. National Safety Council, 29 Mar. 2015. Web. 10 Nov. 2016.
[2] "Top 10 Most Frequently Cited Standards." OSHA.gov. United States Department of Labor, n.d. Web. 10 Nov. 2016.