Interested in joining the Campaign? Learn how to Get Involved!
The Campaign to Prevent Falls in Construction began in 2012 with construction industry stakeholders seeking a way to raise awareness. Falls from heights are the leading cause of injuries and fatalities in construction, with those coming disproportionately from small residential construction contractors.
Falls kill – they are the top cause of construction fatalities and account for one-third of on-the-job injury deaths in the industry. Each year in the U.S. more than 200 construction workers are killed and over 10,000 are seriously injured by falls.
The goal of this national campaign is to prevent fatal falls from roofs, ladders, and scaffolds by encouraging residential construction contractors to:
-PLAN ahead to get the job done safely.
-PROVIDE the right equipment.
-TRAIN everyone to use the equipment safely.
Since the inception of the campaign, a new piece has been added: the National Safety Stand-Down. For information about how to conduct a stand-down, check out the Stand-Down page.
Campaign Sites & Information
Mark Your Calendars: the 2023 Stand-Down to Prevent Falls in Construction will be held May 1-5, 2023
Highlighted Findings from a CPWR Survey on Underlying Causes of Falls from Heights
Grace Barlet, Rosa Greenberg, and Jessica Bunting. August 2022.
To better understand why serious falls from heights continue to occur with such frequency despite being preventable, CPWR partnered with the ANSI/ASSP Z359 National Work at Heights Task Force and the NORA Construction Sector Council Falls Work Group to survey nearly 500 people who experienced, witnessed, or investigated a workplace fall incident.
Ten Ways to Keep Your Fall Prevention Program Alive All Year Long
New Spanish-Language Fall Prevention Playlist / Nueva lista de reproducción sobre las caídas en español
New NIOSH Video – True Fall Stories: Standing Down for Safety!
2022 NIOSH Falls Science Blog Post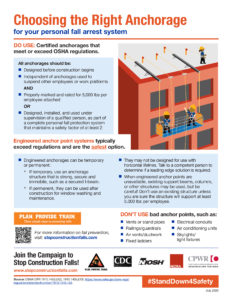 One-Stop Stand-Down Shop
In order to make participating in the Stand-Down as easy as possible, we've gathered some of our top resources in one location. Everything you need to conduct a stand-down is below – whether it's for one day or the whole week.
Promotional Materials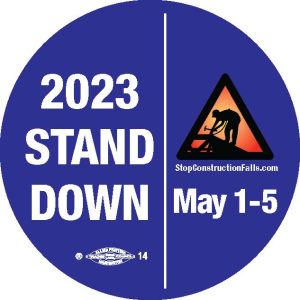 2023 Materials Coming Soon!
2022 National Safety Stand-Down to Prevent Falls in Construction PSAs:
2022 Stand-Down Plan (activity suggestions for participation): English, Español
2022 Social Media Resources (Bilingual in English and Spanish)
Job Site Planning Materials
Written Fall Protection & Rescue Plan – Developing and implementing a detailed fall protection plan is essential to protect all workers at risk for a fall. Click here to use our generic template in English or Spanish.
Small Contractors: Plan. Provide. Train– A section with easy to use resources and tips for smaller contractors, in English and Spanish.
Handouts for Workers
Hazard Alert Cards – these short handouts can be printed as PDFs or ordered online.
Other Handouts
Training Materials & Activities
Toolbox Talks – Download toolbox talks and checklists for fall safety
Videos & On-Demand Webinars – Great for a virtual stand-down, this list includes pre-recorded webinars from CPWR and brand new videos from NIOSH. We also have a complete Fall Hazards & Prevention playlist on YouTube.
Spot The Hazard Activity
Additional Training Guides and Activities
Signage for the Job Site
Virtual Participation
Videos & On-Demand Webinars – including short clips for phone viewing and upcoming webinars!
Research
Data Bulletin: OSHA Inspections and Citations for Fall Protection in Construction and the Impact of COVID-19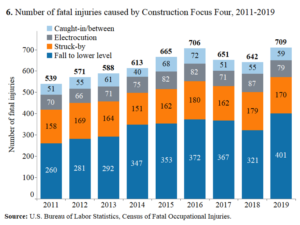 Data Bulletin: Fatal Injury Trends in the Construction Industry
Data Bulletin: New Trends of Fatal Falls in the Construction Industry
Make the case for focusing on falls.